Orthodontic Braces, How Early Should a Child Be Treated?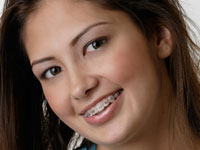 How early should children get dental braces and orthodontic treatment?
A simple guideline to use is that children should be examined at the time their permanent teeth are beginning to come in. However, every child is different, and sometimes the best starting time for getting orthodontic braces and other dental appliances depends on the type of problem and how severe it is. So the answer really is: "It depends…"
If your child has crooked teeth and requires dental braces, early intervention can make a real difference. That is when the best results with orthodontic braces are seen; ones that might be impossible once your child's face and jaw have completely developed. Also, when started early, completing the orthodontics is much easier.
During an initial examination, your dentist will evaluate your child's facial growth, spacing between teeth, crowding, and extra, missing or crooked teeth. They will also look for overbite and for habits like tongue-thrusting and thumb-sucking that may hinder normal growth and development. These problems can change tooth alignment as well as alter facial appearance.
If, after the initial exam, your child doesn't require orthodontic braces or retainers, most dentists will schedule periodic follow-up exams. This is to ensure that while the permanent teeth are coming in, and their face and jaws continue to grow, their needs don't change. If they do, the problem can be caught and fixed early.
Getting orthodontic braces and retainers can bring your child's teeth, lips and face into harmony. We all know that a pleasing appearance and beautiful smile give children, and adults, a big advantage in life.
Orthodontic Dentistry - Now Adult Braces Are Available!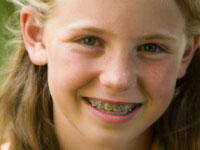 One of the genuine rewards of the new orthodontics dentistry is the adult patient who is willing to wear braces, do the "home" work, and who is excited by the prospect of having straighter teeth and a more perfect bite. As they say in baseball, it's a whole new ball game.
Thanks to the new orthodontic dentistry materials available today, we can offer visible or invisible braces -- adult braces made with space-age metals, braces glued to the back of the teeth. But that's just the "office" part.
Some orthodontic dentists would even argue that the most critical aspect of orthodontic dentistry treatment is how patients do their "home" work. Braces need constant cleaning. There's a rigid retainer schedule to follow. Certain foods must be avoided. It's a challenge. But once committed, adult patients understand what needs to be done and are willing to do it to get what they want from adult braces. They've made the investment in time and money. So they're willing to make the sacrifices (no caramels!) to get the results.
If Mother Nature let you down and your mom couldn't afford orthodontia, call us. It's never too late to get the perfect smile with adult braces and orthodontic dentistry!