Orthodontic Dentistry Frequently Asked Questions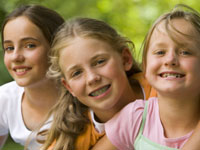 Q. What is orthodontic dentistry?
A. Orthodontic Dentistry or Orthodontics is described by the American Association of Orthodontics as the branch of dentistry that specializes in the diagnosis, prevention, and treatment of dental and facial irregularities.
Q. What is an orthodontist?
A. An orthodontist is a dentist who has undergone specialized orthodontic training to diagnose, prevent, and treat dental and facial irregularities in patients.
Within the U.S., orthodontists are required to complete a two- to three-year advanced residency program in orthodontics following the completion of their four-year graduate dental program. Each of these programs must be accredited by the American Dental Association's Commission on Dental Accreditation.
Q. What causes orthodontic problems?
A. Most problems are inherited, including tooth size and jaw size. These orthodontic problems may lead to crowding of teeth or spacing of teeth.
Overbites, underbites, extra or missing teeth, and irregularities of the jaws, teeth and face also are inherited.
Other orthodontic problems can be caused by accidents, pacifier or thumb sucking, dental disease, or the premature loss of either the primary or permanent teeth.
Q. What habits contribute to "bad bites"?
A. A number of childhood habits can lead to orthodontic problems, such as thumb or finger sucking, sucking on a pacifier, sucking on a lip, mouth breathing (often caused by enlarged tonsils and adenoids), fingernail biting, and "tongue thrust."
Q. When should a child's screening with an orthodontic dentist be scheduled?
A. The orthodontic dentist will advise the parent as to when to schedule an evaluation. It generally will be when the child is between the ages of seven and ten.
An early consultation is advised to identify any potential problems that require treatment. Delaying treatment can multiply some orthodontic problems.
Between the ages of 8 and 12, jaws are still growing; after that, the jawbones begin to harden and it may be more difficult to correct certain conditions.
Invisalign Braces Treatment, Find an Orthodontist or Orthodontic Dentist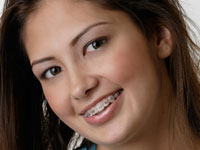 Getting started couldn't be easier. In fact, your crooked teeth could be straighter teeth, and your smile, more beautiful, within weeks of receiving Invisalign invisible braces from your orthodontist.
Step 1: Visit Your Orthodontist
During this first step you will need to make an appointment with an Invisalign Certified Orthodontist. During the initial visit, your orthodontics professional will help you decide on your course of teeth straightening treatment. He will take bite impressions of your teeth and send them, along with a set of precise instructions, to Invisalign.
Step 2: Invisalign Makes Your Aligners
Invisalign uses advanced 3-D computer imaging technology to transform your bite impressions into a custom-made series of clear and removable invisible braces. There may be as many as 48 in the series or as few as 12, depending on your individual Invisalign clear braces treatment plan.
Step 3: You Receive Your Invisalign Aligners in a Few Weeks
During your next visit to your orthodontist, you will receive your first set of Invisalign aligners. Your orthodontist will most likely give you a few additional sets for you to wear before you return for your next visit.
Step 4: You Wear Your Invisalign Aligners
You'll wear each set of clear Invisalign braces day and night for about 2 weeks, removing them only to eat, drink, brush and floss. Total treatment time averages 9-15 months, but will vary from case to case. You'll visit your orthodontist only about every 6 weeks to ensure that your Invisalign treatment is progressing as planned.
Step 5: You've Finished The Invisalign Treatment
Congratulations! When you're finished wearing each aligner in the series, your Invisalign teeth straightening treatment will be complete and you will have the beautiful smile you've always wanted.